When starting a blog one of the first things most people are going to start thinking about is how they can make money with their sites. While you might be better served by doing other things like building content and backlinks to build up your traffic first, having a monetization strategy is definitely an important piece of the puzzle if you plan on making money with your blog to start you need content and an idea or even a product, you can get a loan and visit this site to find how and all the pros and cons of a loaning system.
When I first started blogging seriously in 2008 I didn't really know what revenue sources were available to me as a blogger. About the only things I knew about were Adsense and CPM (cost per thousand) ad banner types. What I didn't realize is that there are a plethora of other ways to make money with a blog.
Continues after Advertisement
---
---
10 Ways To Make Money With A Blog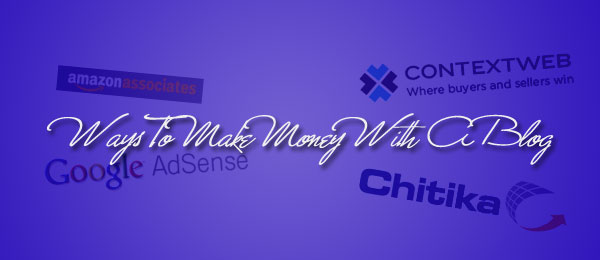 After about 6 months of blogging, and a lot of research I realized that there are a ton of ways you can make money with a blog, and it wasn't just Adsense.
Pay Per Click (PPC) Ad Networks:  You can make money with pay per click ad networks along the lines of Adsense and Chitika.  These types of companies will pay you anywhere from pennies to dollars every time someone clicks on one of their ads on your site.  Google Adsense is by far my biggest money maker currently – and can be a good source of income even for newer bloggers.
Private Ad Sales & Sponsorships:  Selling your own advertising space can be a very lucrative monetization method, mainly because it allows you to cut out the middle man (third party ad networks) and keep 100% of all the money you make instead of just getting a commission from a network.  Of course you have to do the hard work of selling the ads too!
CPM Ad Networks: Another great way to make money based on your site traffic is through CPM ad networks.  CPM networks are a lot like PPC networks, except in the fact that they don't pay you for
clicks, but instead pay you each time their ad is served.  So if they pay you a $1 CPM, you'll receive $1 for every thousand ads served.  Finding a premium network for your niche that pays a high CPM is key to making good money with this.
Affiliate And Referral Networks: Companies and individuals are more than willing to pay you if you can get someone to purchase their product or sign up for their service.   It usually works best when you promote products  you actually use and believe in.  Usually a company will pay you a  percentage of a sale or a flat fee.  It can be quite lucrative if you do it right.  Promoting these affiliate type offers does the best via reviews or via an opt-in email list.
Referral and GPT Networks (Get Paid To Websites):  There are quite a few sites out there that will pay you to fill out surveys, sign up for trial offers, buy products and refer new users to the programs.  I've signed up for several of them, and found that the real money is to be made in referring new users.  One example that has worked the best for me is  Cash Crate.
Creating Your Own Product To Sell: A lot of bloggers will diversify their income by creating their own products that they can sell on their site. Things like creating their own e-book (like the one I'm selling!), online classes, selling a service and membership websites have all become very popular.
Text Link Ads:  Some newer bloggers find that once their site gets a page rank above zero, they'll start getting offers from other sites and individuals who want to buy a text link ad on their site. While you can make some good  money doing this, I have chosen not to partake in text link ads because Google has stated that they don't like them, and it's possible at some point sites that sell them could be docked in the search engines.   And you NEED search engine traffic to be successful.   So seller beware.
Sponsored Reviews:  Some companies will pay you to review their products or to do a sponsored post.  Just make double sure to post a notice that these posts are sponsored as required by the FTC.
Paid Writing Positions: Once you've built up some content on your own site, sometimes higher profile sites will offer to pay you to write for their sites as well. Your blog can stand as a resume of sorts for those looking to hire writers.
Selling A Service: Some people will use their site promote a service that they're offering.  For example, you may offer consulting services via your blog, or maybe you offer design services.
Bonus Idea – Sell Your Blog:  I know some folks who enjoy the process of building a blog, but don't want to continue doing it long term. Instead they build the site up to a decent amount of traffic and content, and then sell the site itself!
So those are a few of the ways I've found to make money with my site – although there are other things I've done as well.
What it really comes down to is that your options for making money with your site are only really limited by your creativity.  The key is to diversify, and create multiple streams of income via your site(s).  That way, if one source of income dries up, you'll still have others that you can fall back on.
Do you have other ideas for making money with a blog?  What strategies do you use for monetizing?  Tell us in the comments!