There has been some rumbling for a while that Google would soon be releasing their own social voting tool called the Google +1 button.  If you've been around blogs for any length of time you've seen these social voting and sharing buttons or links – asking you to vote for or share a post or page to make it more popular on Digg, Reddit, Stumbleupon, Twitter or Facebook.
Google wanted to get in on the action because they feel that they can use the voting data to make search results more relevant and useful for users, as well as allowing the voting data to affect the results you get based on what your friends have voted up.  In other words, if you're a blogger – you may want to add a +1 button because it can affect your site positively in the rankings if you do have one. Just how much is up for debate.
Continues after Advertisement
---
---
On one of their FAQs about the +1 button Google states that the tool will be one of many signals that they use to determine a page's relevance, and ranking:
This is just one of many signals Google may use to determine a page's relevance and ranking, and we're constantly tweaking and improving our algorithm to improve overall search quality. For +1's, as with any new ranking signal, we'll be starting carefully and learning how those signals affect search quality.
So while we don't k now how much of a boost it will give you, any boost means you should probably give it a look see.
How To Add The Google +1 Button
Adding a Google +1 button to your site really shouldn't be very difficult. It basically comes down to adding two small pieces of code to your site.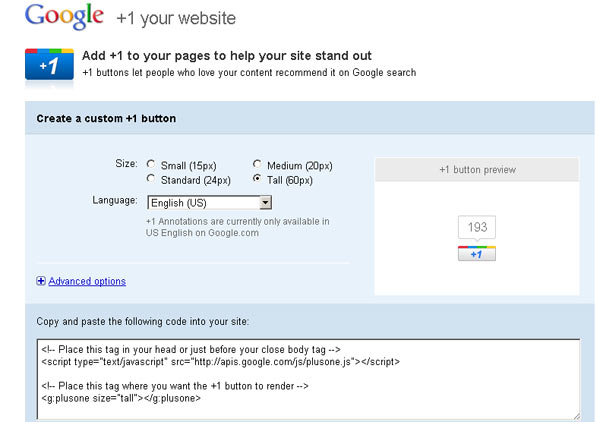 First, you need to add the following code in the head of your page or just before your closing body tag:



Then, wherever you want the actual +1 button to show up on the page, you enter the following code:


That's pretty much it. You can of course change where you have the button showing up, or how it is styled (float left vs. right/etc), but those basics should allow you to get it up and running.  You can see it implemented on this page down below the post.
There are also several styles of buttons that you can use, anything from a small button, to a tall button with click count. For full details on the +1 button, and detail on how to customize, head on over to the developers page here.